16/03/2022
Posted by:

Juhudi Kilimo

Category:

Press Releases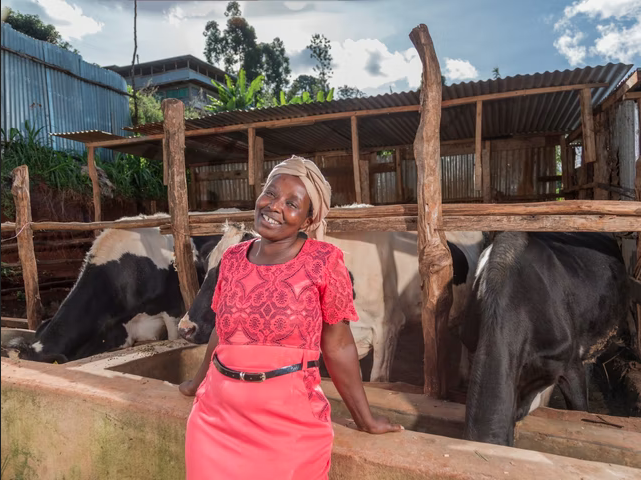 The USD 3.1 m equity investment gives Nordic Microfinance Initiative (NMI) a 39.4% ownership stake and will support microfinance institution Juhudi Kilimo in providing wealth-creating financial solutions for smallholder farmers and rural microentrepreneurs in Kenya.
This recent investment follows on from NMI's previous USD 3m debt investment in 2019.
Established in 2004, Juhudi Kilimo primarily finances specific agricultural assets such as seeds and fertilizer, equipment, and quality livestock, which allows smallholder farmers to significantly increase their yields and productivity. Additional products designed to improve the livelihoods of rural people include loans for clean energy, micro-housing, and education.
80% of Kenyans are dependent on agriculture as their source of income, and small-scale farming forms the backbone, representing roughly 75 per cent of the total agricultural output. However, many rural smallholder farmers lack access to formal banking services. With 41 branches and 7 satellite offices spread across 33 counties, Juhudi Kilimo has a wide footprint across many remote parts of Kenya, currently serving over 90,000 smallholder farmers and micro entrepreneurs, of which 68% are female and 38% are youth.
Tailoring products to specifically meet farmers' needs and equipping them with the skills to sustain a profitable business in the long-term has been part of Juhudi's successful approach. Repayment schedules that fit with farming cycles are key, and Juhudi additionally support customers with business management, technical, and financial training.
"We are delighted to be expanding our partnership with Juhudi Kilimo to help give more farmers and micro-entrepreneurs in rural areas the support to help grow their income," said NMI Managing Director Arthur Sletteberg. "Since our first debt investment in 2019, Juhudi has consistently impressed us with their steady growth and dedication to delivering transformative financial solutions. Our significant ownership stake demonstrates our commitment to our active, collaborative partnership with Juhudi to support their innovation and growth across key areas, including technology."
A traditional barrier to financial inclusion in deep rural areas has been distance, but Juhudi has effectively tackled this with technology, launching a mobile money platform 2017 to extend their reach in remote areas and make services cheaper, faster and more accessible. Today almost 98% of Juhudi's loans are disbursed via mobile phone with roughly 99% of customers also making mobile repayments.
At the onset of the COVID-19 pandemic in 2020, NMI's Technical Assistance facility (funded by Norad, the Norwegian Agency for Development Cooperation) assisted Juhudi Kilimo with a fast turnaround to implement a mobile app to manage client groups remotely. As the agriculture sector has largely continued to operate throughout the pandemic, these digital solutions aided in returning Juhudi Kilimo's collections in July 2020 at 94% of pre-pandemic levels. In 2020 Juhudi won the Africa Digital Award for the best Agritech Innovative Financial Institution.
''Juhudi Kilimo has had a running relationship with NMI as a debt provider since 2019 to on lend to rural smallholder farmers and micro-entrepreneurs. NMI has provided immense support to Juhudi through Technical Assistance for digitization to improve on efficiencies and turnaround time in service delivery. We are excited to have NMI as a significant shareholder into Juhudi Kilimo who will definitely add value, insights and resources in achieving our growth ambitions in line with our strategic plan during this period of unprecedented turbulence globally,'' said Bernard Kivava, Chief Executive Officer, Juhudi Kilimo.
NMI joins existing investors Acumen Fund and Incofin CVSO as shareholders in Juhudi Kilimo.
"Juhudi has helped me generate sufficient income to educate my children. I encourage other farmers who are in my previous situation to join Juhudi and benefit as I did"
Irene Wangari Thiongo —Dairy Farmer, Ndumberi, Kenya